Where did you grow up? I grew up in the Cotswolds. My family has now dispersed across the country, though, with my mother, Joanna in the Highlands, my father, Martin down in Devon, and my brother Marcus Gibson in Oxfordshire. I recently moved to North Yorkshire.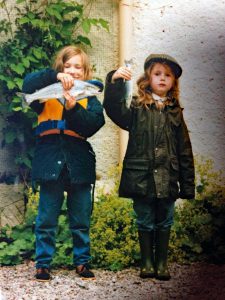 How did you get into fishing? My parents taught my brother and me to fly fish with a single handed rod from the age of around five, and we moved onto double handed rods when we were eight. It was my mother's passion for salmon fishing that pushed us to do more.
Can you remember your first fish? One of my fondest and earliest memories was of a school holiday in the wilds of Scotland. I must have been about five. One day all the children jumped into a boat with our ghillie, the boat crammed to the gunwales with fly boxes, rods and waders. At that age it's relatively normal to want to catch the biggest fish… Not long after we set off, a friend of mine, India Clegg, hooked into what seemed like the catch of her lifetime. Although the line was pointing in the wrong direction; upwards not downwards. As we all peered up we all started hysterically giggling – at the end of the line was a hugely unamused seagull! Not long after this episode of catch and quick release, I landed an almighty sea trout. Photo evidence shows it wasn't actually that enormous, however I still remember it as the biggest catch of my childhood.
Your most memorable fish so far? In 2014 I was invited to fish the River Spey. I was fishing a pool called Hollenbush on the Delfur beat; a location so magnificent I still have a perfect image of it in my mind. As my fly glided into the unknown I felt the tug. Before I had the chance to think I was down to my backing as this incredible fish shook it's head. After a number of exhilarating runs she finally began to tire enabling my host Tom Mountain to net her safely. She was 15lbs, covered in sea lice and as fresh as they come. We released her safely in hope she would complete her journey.
Do you have a favourite salmon river? And if so, why? It has to be the River Oykel in Scotland where my mother has lived since I was 12. I just feel so at home there, I caught my first two salmon there within 10 minutes of each other.
Do you have a favourite international fly-fishing destination? If so, why? My best memories so far would be on my trip to Belize last year. We stayed in an Orvis-endorsed lodge called El Pescador. The lodge employees and guests were so friendly, most of the guests were from South and Central America. In the evening we all sat at long tables and talked the night away about – any guesses? – fishing! It was my second time saltwater fishing and I landed two permit and three tarpon. My partner in crime, Edd Morrison also landed his first permit, which he had been after for 5 years! You can't beat saltwater fishing – it equals sun, sight fishing, great guides and big, powerful, vibrant fish.
Your biggest salmon so far? I caught my biggest salmon in Norway last year. I hooked her during my first hour of fishing. I couldn't contain my excitement when I landed her, and we released her back so quickly that I forget to measure and weigh her – whoops! As you can see in the pictures below, she had suffered external damage, possibly from nets that run along Norway's coastline. Note the scar running vertically down the lateral line, the tears on her dorsal fin and her jagged gill covers.
Do you have a go-to favourite salmon fly? Yes, Grant's Orange, I've always been told to fish with a fly you are confident in and this particular fly tied and invented by Grant Morrison, has caught me two of my most memorable salmon to date. The Delfur salmon was the first and the other was a cock fish in Norway – clearly this fly works everywhere.
What rod and reel do you fish with for a) trout and b) salmon? For trout I use an 8ft 4wt Orvis Superfine rod and an Access reel, or my 9ft 6wt Helios rod and Mirage reel – this setup is beautiful. My go-to salmon rod is the Orvis Clearwater with an Access reel.
What is at the top of your fly fishing bucket list? There are too many to count on both hands (and feet). I would love to fish the Indian Ocean – the crystal-clear water and sunshine really does appeal to me! I am going to Christmas Island (Pacific Ocean) in May, this has been on my list for a while and I hope to beaten up by a behemoth giant trevally and a graced with the presence of bluefin trevally – they are one of my favourite saltwater fish. Wish me luck!
Who is the most talented fly fisher you know? Scott Mackenzie, I've known Scott from a young age. He fishes at the Reisastua Lodge in Norway and when I was on a hosted trip there last year, one of their guides told me that when the river was unfishable for most, Scott made a cast across to the other side (which no one else could!) and caught his biggest Atlantic salmon to date of 38.5lb. He's a living legend.
Do you have a fishing hero/idol?</strong? My mother has been my primary inspiration from the word go. She is a devoted fly fisher and I am eternally grateful that the obsession has rubbed off on me and I hope, one day, I will be able to pass it on. Any activity in life needs the next generation for it to survive, whatever that may be.
If you could share a day on the river with anyone, who would it be? Ooooh, this is a hard one as there are so many! Can I say David Beckham? I missed him by a whisker this year in Iceland on the Langa River. David is a great advocate for country sports.
Do you have a favourite quarry species? And if so, why? No, I don't. I am probably more intrigued by fish as a subject than I am with fishing itself. This is why I chase all sorts of species.
You've just packed in your job in London and moved to Yorkshire. What is the plan now? I am ecstatic to have left London, now I can really take the bull by the horns. I am half way through my Angling Trust Level 2 1st 4Sport Guiding Exams, which I finish in March so, if all goes well and I pass, I will be qualified to teach all ages. I am in the middle of organising a ladies' course on the River Dee, and I also have a few hosted trips in the pipeline for 2017 including Belize with Line Girls, Bristish Columbia at the end of October and Lapland for Baltic salmon in August. I am in the process of unraveling what 2017 has in store for me and it's all looking very exciting. I have also been working with The London Fly Fishing Fair; this was their first year and it was great!
One piece of angling advice for a newcomer to fly fishing… To start up all you need is a rod, reel, line and a few flies – nothing fancy. One will discover that the more time you spend on the water the more you spend on your kit, but that will be down to your own budget – you have to be careful, though, it is a highly addictive passion! Wherever you are in the UK you are never more than a stones throw away from a fishery, whether it be a lake, river or sea. Google is our best friend, so use it. Just one more thing, perseverance – this particular trait will keep you coming back for more even after a hard day's fishing.
Are you superstitious? No, not really although I do have a tendency to paint my nails to match the scales of the species I'm after and I wear feathered fly earrings.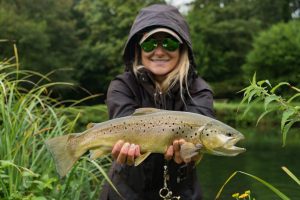 If you would like to book a guided day with me next season on the River Test or Itchen please visit: marinagibsonfishing.com/events/ and pick a date!
Back to blogs