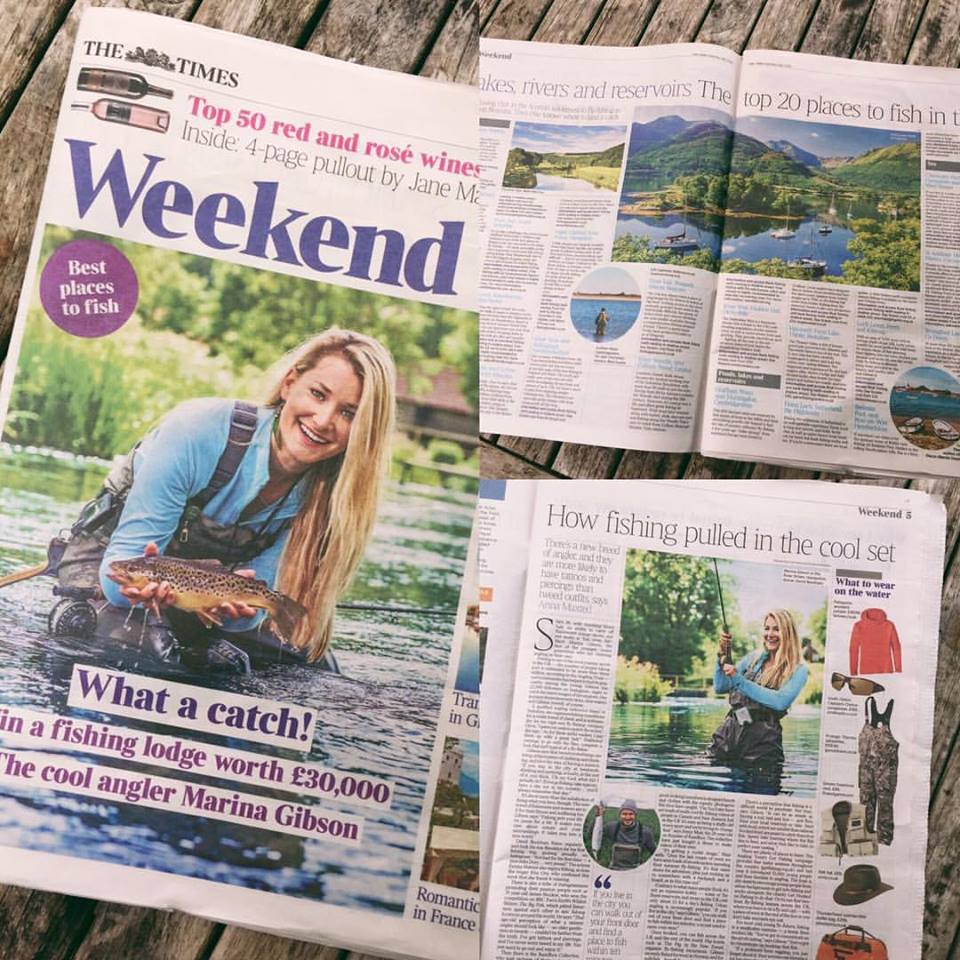 She's 26, with tumbling blond hair, an ability to carry off fluorescent orange shorts, and her motto is "Eat, sleep, fish". Meet Marina Gibson, the face of the younger, cooler generation who are claiming angling as their own.
Fishing is one of the most popular sports in the UK — the number of people taking part is estimated to be more than three million, according to the Angling Trust — and social media has helped to fuel its popularity among the young. Gibson has 22,000 followers on Instagram, eager to catch the latest images of her exploits. Her account shows heavenly skies, clear waters and Gibson herself, of course.
A qualified angling instructor based in Yorkshire, she organises fishing expeditions for a cooler breed of client, and is ambassador for the high-end fly-fishing company Orvis. "I paint my nails to match the scales," she says. "As for those awful waders, I jazz them up with a great belt." Feathered earrings, to go with the flies, complete a look that isn't typical of a fly-fisher.
Gibson says that twenty-somethings are tiring of the routine of clubbing and drinking, and love the idea of having a passion.
"If you stay in the city at weekends, drinking and partying, actually, at the end of it, you think, 'Oh my God, what did I actually do?' If you go fishing, take a picnic, have a day out in the country . . . you'll always remember that day."
It's about more than the satisfaction of doing what you love, though. The new breed of fishermen and women are in it for their fitness and wellbeing too. Gibson says:
"Fishing puts your life on pause for a bit. It makes you care about nature and your surroundings. It takes you into a new world."
David Beckham fishes regularly and took his son Brooklyn for his first fishing trip, posting proudly on Instagram: "Not bad for his first time — a nice John Dory . . . very proud." The actress Emma Watson also enjoys fishing, as does the singer Rita Ora, who confessed this week that she found it relaxing.
There is also a tribe of Instagrammers promoting their passion: people such as 35-year-old James Stockoe, who won the competition on BBC Two's Earth's Wildest Waters: The Big Fish, which pitted fishermen against each other in epic fishing locations around the world. He says: "That age-old perception of what a salmon angler should look like — an older gentleman in tweeds — couldn't be farther from the truth. I've got tattoos and piercings, and I've never worn tweed in my life. You just need to go out and enjoy it."
Then there is the RainBros Collective, who post pictures of their various (very good-looking) members in designer beards and clothes with the equally photogenic fish they have caught. "On YouTube there are loads of really cool fly-fishing videos of people in Canada and New Zealand, but in the UK it's seen as being a stuffy old man's sport and we're trying to change that," says Jonny Muir, the 28-year-old co-founder of RainBros. The collective have just bought a drone to make videos of their own.
"It's getting a cooler image," Muir adds. "Over the last couple of years we have seen loads of snowboarders spending their summer fly-fishing. It's that same desire for adventure, plus just rocking up to somewhere with a backpack and a board, or in this case rod."
Contrary to what many people think, it's not an expensive hobby — some of the finest reservoirs and rivers in the UK cost only about £5 for a day's fishing. Urban angling is increasingly popular. "If you live in the city," says Gibson, "you can walk out of your front door and find a place to fish within ten minutes; you just need to open your eyes."
Once hooked, you can fish across the UK and the rest of the world. Hip hotels such as The Pig, in the New Forest, organise fly-fishing excursions. Gibson recently fished for trout in Norway, and for milkfish, bonefish and triggerfish on Christmas Island in the Indian Ocean.
There's a perception that fishing is a difficult world to penetrate. Not true, says Gibson. "It can be as simple as buying a rod, reel and line — and flies. Find your local reservoir or lake. Start with trout, which are smaller than salmon. Stocked trout are easier to catch than river fish. Spend time learning where the fish like to feed, and what they like to take, to perfect your casting."
There are plenty of places to learn. The Angling Trust's 'Get Fishing' campaign provides free taster sessions throughout the country (getfishing.org.uk) and last year it introduced 15,000 young people and their families to angling. The trust is also keen to encourage young people from urban backgrounds to get into fishing and works alongside the charity Get Hooked on Fishing to do that. Orvis run free two-hour fly-fishing lessons across the UK, where you learn to tie a fly and cast — with a piece of wool at the end of the line so you don't take anyone's eye out.
For most cool, young fly-fishers, fishing is a meditative exercise — a break from modern life. "You've got to concentrate on the art of casting," says Gibson. "You've got to concentrate on hooking that fish.
"If a problem's been niggling, you just forget about it. Your worries can become a lot less important after fishing has cleared your head."
I hope that some of you enjoyed reading the 'Big Fishing Special' spread.
A big thank you to the ever so talented photographer, Philip Hartley.
Visit www.philip-hartley.co.uk to see his impressive work, if only I could hire you full-time…
Back to blogs