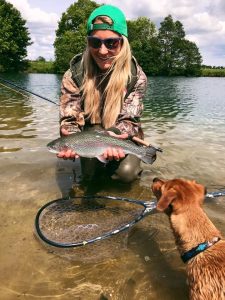 I grew up between Gloucestershire, Scotland and Devon and, as an adult, enjoyed a meaningful and memorable six-year interlude in London working in the city. But when I decided the time was right to pursue my number one passion full-time, I packed up my life and moved to North Yorkshire.
I started fishing before I can really remember. My mother is a keen salmon fisherwoman and much of my devotion to the sport stems from her fervour. After a few years balancing an office job with as much fishing as I could fit in, I felt it was time to take the plunge and head north, where I felt I really belonged.
Fishing for me has always been about the pursuit but, just as important, about celebrating the great outdoors, our ability to connect with nature and spending time with those we love.
I believe our search for that elusive 'greener grass' is firmly rooted in a deepening awareness of our mental wellbeing, and how important it is for us to find, protect and preserve those activities that allow us to maintain balance in a fast-paced world.
Fishing can be solitary, something I greatly enjoy when I fish alone, but there's nothing quite like turning off technology and having quality time with loved ones on the riverbank. For me, one of those loved ones is Sedge. He's been fishing with me twice now; on his first trip, he jumped into the River Dee and my gillie, Martin Robson, had to grab him before he disappeared, so a lifejacket is a must from now on.
After some guidance from friends, I came across an adoption site that featured strays from Romania. Sedge's big brown eyes, soft fox-red fur, white chest and white-dipped front paw caught my eye.
I've had Sedge for a few months now and he's already becoming well-travelled. He has been up to Scotland with me to fish the River Dee, and down to Devon for my level two coaching exams with the Angling Trust. He often visits the Orvis store in Harrogate to watch me help shoppers with their casting technique (and indulge in a few treats), and has travelled on a train and the tube to and around London to attend my Casting In The Park sessions with Orvis London and The London Fly Fishing Fair.
Most people think I'm mad to have blindly adopted a street dog and have asked why I didn't adopt a dog from the UK, but I've never seen an unaccompanied dog roaming the streets in the UK. Thankfully, we don't have an army who use them for target practice or a government that says you can kill any stray dog you see using whatever method you choose. I know I made a difference for Sedge, and potentially saved his life. I encourage any potential owners who are in a position to do so to please adopt. It changed Sedge's life and, I can honestly say, it's changed mine.
You can follow Sedge's journey on Instagram or Facebook using the hashtag #SedgesStory. Marina Gibson is ambassador for Orvis, the country pursuits and luxury dog products brand, which has a store in West Park, Harrogate. For details, visit orvis.co.uk
Back to blogs