Of all Britain's freshwater fish, the pike is the one that really excites the imagination. These monsters, some weighing more than 40lbs, lurk in the darkest depths of our rivers, reservoirs and lakes, feeding greedily on other fish. Ted Hughes wrote of their "malevolent, aged grin", while in 1922, The Field magazine reported that a pike had been caught near Newbury with an entire newborn pig in its stomach. With their razor-sharp teeth and anti-coagulant saliva, pike are the stuff of nightmares – which is, of course, exactly the reason why so many people want to catch one. "There is no other fish like them in the UK," says Marina Gibson, a fly-fishing instructor and professional guide, as we make our way to a river in Sussex, which is rumoured to be packed with pike. "They are hardcore predators, one of those fish that rule the river. Sometimes they come right up to the surface and follow your fly. You might even see a bow wave." For someone used to catching tiny brown trout on gentle chalk streams, this all sounds, frankly, rather terrifying. But as any keen angler knows, you need your fix, and with the trout fishing season having closed across most of the UK at the end of September until the spring, this is surely the most exciting way to avoid going cold turkey – after all, the optimum time to catch pike is between October and March.
There are a number of ways to catch a pike, which are found in most canals, reservoirs and rivers. Many people use a spinning rod with artificial lures, mackerel, sardines or herring as bait. But Marina, 27, prefers a stiff fly rod with a sinking line and a gaudy, 6-10in fly that oscillates near the bottom of the river as she draws it back in. This type of rod, Marina explains, gives her greater accuracy and allows her to land the fly on the water in those hard-to-reach spots, often in the shadow of overhanging branches, where pike lie in wait. They like to sit in slack water, so that they can pick of passing prey. And sure enough, it isn't long before Marina is onto something. The rod immediately bends almost in half, as this epic battle of wills gets under way. At one point, the pike leaps fully out of the water (known as a tail walk) before crashing down again with a hell of a whack. Eventually, Marina manages to get the fish into a net and onto dry land. This is the first pike I've seen in the flesh and it doesn't disappoint – though I have to report that those tales of horrifying, ugly beasts are unfair. The pike is enormous, certainly, but it is also a beautiful, majestic fish, mottled with deep greens and vibrant yellows. "Every single one is so different," says Marina, beaming from the thrill of the fight. "Their markings are incredible." Photographs taken, the pike, which Gibson estimates is a hefty enough 10- 12lbs, is duly returned – unharmed – to the river. And best of all, none of us has lost a finger.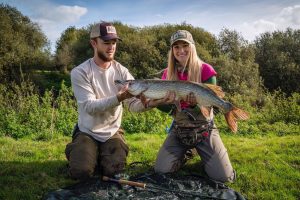 In a flap: Marina and Matt get ready to photograph the pike before returning it to the river again Credit: Andrew Crowley for the Telegraph Marina, like the pike, is a great advert for fishing. With her long, blonde hair and bright, stylish outfits ("I paint my nails to match the scales"), she defies that old-fashioned, stuffy image that has hobbled the sport since, well, since forever. And with more than 25,000 followers on Instagram (@marinagibsonfishing), as well as her own YouTube channel and Facebook page, she is introducing a whole new generation to the joys of fly fishing. "Now that there is social media [to promote it], fishing is looked upon as quite a young, fun sport," Marina says. "It's all about the outdoors, fresh air, and getting away from the television. Parents are going, 'oh God, I actually need to get my kids outside and away from technology'. Fishing is a good way of doing that." Something is definitely happening: the Angling Trust's Get Fishing campaign introduced 15,000 young people to the sport last year.
Marina, who grew up in Leicestershire and whose mother is a salmon fishing fanatic, picked up a rod when she was five and caught her first salmon at 11. The distractions of school and university soon tempted her away from the riverbank, however, and it wasn't until her 21st birthday, when her father gave her a trout and salmon rod, that she was persuaded to dust of the waders. "I was living in a high-rise flat in London and all I was doing at the weekend was partying," she says. "Then I got this rod and I started fishing every single weekend." What did her friends make of that? "My friends thought I was mad," she laughs. "I remember one time I'd been fishing all day Saturday and I was going to a party that night. I turned up with a fish as a present and the host looked at me as if to say, 'are you kidding?' Everyone thought it was hilarious." The joke, you suspect, is on them. Marina is now a qualified guide – and ambassador for global fishing brand Orvis – who leads tours across the world. The day after we met, she few to Belize for a three-week fly-fishing trip.
You might have noticed that details of my own pike fishing experience in Sussex have been rather scarce. Marina and pike specialist Matt Roberts, who knows this river well, both hooked two fish. Alas, despite their best efforts, I walked away empty-handed, save for an enormous stick, which gave me the fright of my life and, embarrassingly, had me hollering for the net. It's not altogether easy to find excuses, since the casting technique is similar to that used when fishing for trout, even if the weight of the fly requires a little extra effort. But there does seem to be a sixth sense required, which tells you where the pike are lying. Whereas you can see trout rising to the surface to feed, you never see a pike. But it's definitely not guesswork. Time and again, Marina and Matt would land their fly in those ominous looking, black pools (while I deposited mine in the foliage behind my head). "It looks 'pikey' in there," was the phrase of the day. How did they know? That, though, simply adds to the mystery. Like anything worth doing, pike fishing requires perseverance. And having finally witnessed one of these wonderful creatures face to face, I feel sure that when my time comes, it'll be very much worth the wait. As Marina puts it: "To catch a pike is mega."
Back to blogs