Enjoying a Dee day again after the damage
This article was published in 'The Field Magazine' in December '17.
The River Dee Trust has worked tirelessly to restore its beats following decimation; a year after Storm Frank, it was open for business once more.
When Storm Frank hit the Dee Valley on 31 December 2015, it wasn't just the river that was affected during this catastrophic eruption. People's homes, shops and livelihoods were left in ruins as the area experienced the most devastating flood that it had ever witnessed. Caravans, cars and the local buses rolled downstream, thousands of people were left without power and flooded homes had to be evacuated. The only saving grace was that no one was killed. The river system's infrastructure suffered badly, too, as a result of the storm, with historic huts, beats and pools washed away. The hard labour and expense that has gone into getting the river back on track is incredible.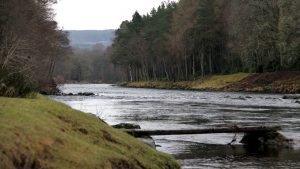 An optimist would say that everything happens for a reason and maybe the river needed its heather burnt for it to rejuvenate and return stronger. It will take some years to recover fully from the damage but a remarkable amount of work has taken place in just one year. one year on So it was with curious fascination that I drove north one year on to experience the Dee in Aberdeenshire for the first time.
Prior to my visit, friends and relatives warned me to wrap up warm due to the bitterness of fishing for springers in February. I took on board their advice and packed for Arctic conditions. Items included all-in-one thermals, WD-40 and hand warmers – none of which I actually used. The Banchory Lodge Hotel, where I was staying, welcomed dogs so Sedge, my Heinz 57, hopped in the car and we ventured up north. We left at midday and arrived at Glenshee while the sun was still up. Fresh air, big skies, rolling hills covered with heather – welcome to Scotland. It was pitch black, raining hard and unusually warm upon my arrival at the hotel. The beautiful, castle-like lodge, its white exterior lit up by spotlights, materialised as we drove in and parked. I gathered my bags, including the dog "baggage", and as I walked through to the hotel I had my first sighting of the River Dee. I was told that evening that it was, in fact, where they open the river every year on 1 February. This was fast turning in to one of my favourite spots – my morning dog walks were going to be glorious. I walked across the pebbled drive towards the main entrance where I was welcomed by the receptionist and Mark Bilsby, river director of the Dee Board and Trust. That evening, I had a delicious supper with my hosts, Mark and Ross Macdonald – the Dee's fisheries development officer.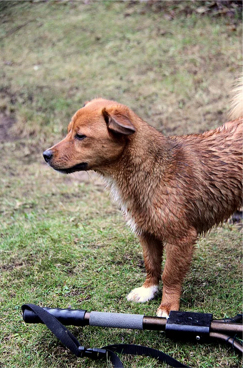 There is something uplifting about waking up to the sound of a river and even better when you are able to see it from your bedroom window. After breakfast, Ross Macdonald took me down to Crathes Castle; I was amazed by the vastness of the river. Fortunately, I was well equipped for the day with a 14ft 9wt Orvis Clearwater. The water temperature is cold in spring, so salmon lie low in the pools and are sluggish. To have any chance you need to bump the fly on their nose, necessitating a 15ft sink tip and heavy tube flies. As I stepped out of my car I was warmly greeted by the charming Cleve Cowie. We collected our kit quickly and shot into the fishing hut to get changed in the warmth. When I first stepped into the hut I was amazed and exclaimed: "This is the most luxurious fishing hut I've ever been in." It was true. I would quite happily live in it and it had everything you would need to do so:kitchen, sitting room, dining table, loo, wood burner and a huge sofa. The smell of fresh wood suggested that it was only recently finished and the walls were adorned with a montage of photographs showing the destruction of Storm Frank. There were photos of the previous Crathes Castle hut in the middle of the river with the roof just about to go under. Mother Nature had called and she didn't care about anything or anyone.
The other guests on the beat, Graeme Arthur and Richard Thomas, had been fishing the River Dee for 25 years and after the disappointment of Storm Frank's intervention the year before were glad to be back in business. Arthur had already caught a springer on the first day and it wasn't long before Thomas connected with a fresh fish on the day I arrived – a spanking, 7lb springer taken on a Dee Monkey and landed with everyone around to celebrate. After a long day's fishing I hadn't had a touch but I still had another day and morale was high, despite the pouring rain and frequent hail. "This is what it's all about, this is why we come," said Macdonald, who was standing next to me while I cast. It is that inspirational philosophy that keeps you trying for springers in the cold months – for days, months, years…When you've faced the elements all day you need a warm bar and some great food – and the Banchory Lodge Hotel supplies both.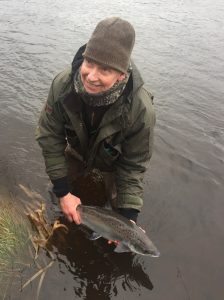 On my last night, I had supper with Ross Macdonald and a lovely lady called Tara Speirs, who is one of the owners of the Invery & Tilquhillie beat, just downstream from Banchory Lodge. Macdonald was keen that I meet her, as Speirs is passionate about encouraging new participants, particularly ladies, into fishing. The Invery & Tilquhillie beat has been hosting Ladies' Days for the past four seasons and I was encouraged by how welcoming the beat and the river in general is to lady anglers. It has inspired me to do my bit by developing ladies-only courses on the river.
On my second and, sadly, final day of fishing we made our way to Little Blackhall and Inchmarlo with ghillie Martin Robson. This beat is around three miles upstream from Crathes Castle and absolutely breathtaking. The river is narrower here and tree-lined on both banks. I worked the home pool as hard as possible, covering as much water as I could.
As the hours past, we finally felt a tug on the Dee Monkey. It gently peeled off line and after dropping the loop I lifted into the fish slowly. But before I could blink the line went slack and the fish had come off. We fished for the remainder of the day until the sun set, the darkness crept over us and it was time to call it a day. I'd had my chance but the fish had evaded me. However, I returned home with that moment of connection with the king of fish and an abiding admiration of the Dee and the community that serve her.
To book fishing on the Dee, tel 01573470612, go to fishdee.co.uk or contact Ross Macdonald at ross@riverdee.org. For Information about the River Dee and how it is cared for, tel 01339 880411 or go to riverdee.org.uk
Salmon Research
Marina Gibson is an ambassador for the Atlantic Salmon Trust (AST). The River DeeTrust is one of the many organisations that are involved with the Acoustic Smolt Tagging Programme led by the AST. This will result in understanding the constraints to survival at sea and developing new ways of protecting stocks during their marine phase. Wild Atlantic salmon have declined from eight to 10 million fish in the early 1980s to three to four million fish in 2016. There are many reasons for the fall, including rising sea temperatures, by-catch, impact of aquaculture and predators, but with the expertise of scientists and technology we have a chance of finding out where the main problem lies. You can "become a friend" of the AST for £20 a year. Your money will be spent on AST projects and you can designate your donation to a particular project, if you wish.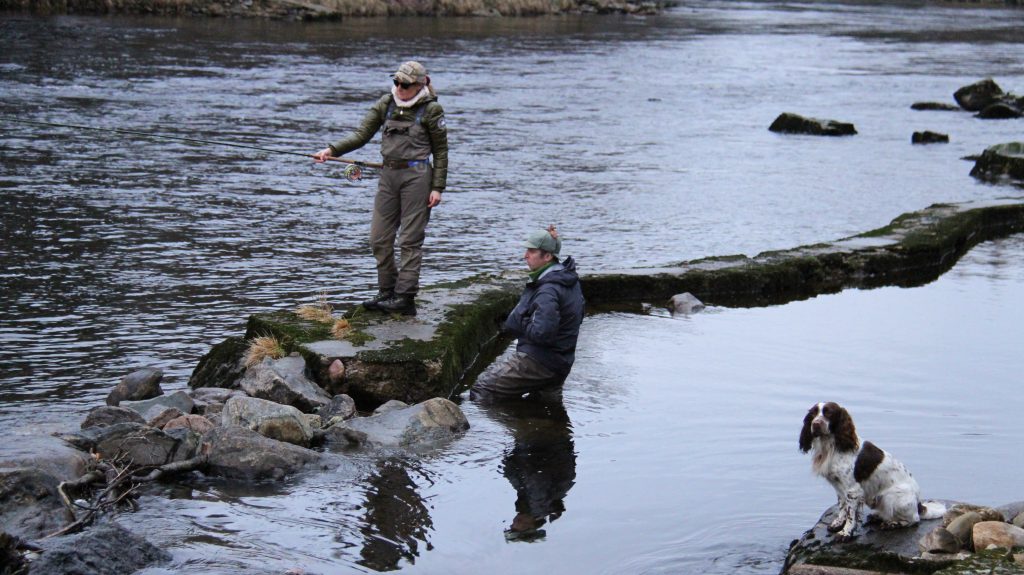 Back to blogs