For the third year running rods headed to St Mawes in Cornwall to compete in the Kilchoman UK Saltwater Fly Fishing Festival for The Field Cup – and the chance to cast for a new range of species.
In September, the Kilchoman UK SaltwaterFly Fishing Festival took over St Mawes for the third year running – and The Field was delighted to be back to present The Field Cup. This small, picturesque town on the Roseland Peninsula in southern Cornwall, once renowned for its commercial fishing, is now a popular tourist destination complete with buckets, spades and shrimping nets. The festival was founded by husband and wife Amelia and Tim Whitaker. "Several years ago we had [fishing guide] Nick Anthony stay here at Near water, our B&B.Over the week he would go out fly-fishing before breakfast each morning and comeback with a huge grin on his face, sharing stories of the numbers of fish he was catching off the fly," said Amelia Whitaker. "Saltwater fly-fishing festivals are already big in the USA and Ireland and Nick, who was once a member of the SAS, managed to persuade me that I should create some-thing similar at home; he felt there were huge opportunities for such a festival. I love a challenge and in 2015 the first Kilchoman UK Saltwater Fly Fishing Festival was held.
"Three years later, we can see that the number of entrants and interest in this wonderfully exciting sport is growing. Tim and I love being part of this festival and thanks to the generous support of the Wills family, who are owners of Kilchoman whisky in Islay, the title sponsors of the festival, we now have The Kilchoman UK Saltwater FlyFishing Festival." Known as "The Salt", the festival has gone from strength to strength and it now attracts rods from right across the British Isles." The festivities kicked off on the Thursday, when Amelia and Tim Whitaker hosted a drinks reception at the St Mawes Hotel. This was followed by a Q&A forum with a panel of fishing experts: Colin MacLeod, Martin Webster, David Wolsoncroft-Dodds, Jo Stephenson, Robert Bunn, Nick Mackrory and myself. The evening culminated with a dram, courtesy of the title sponsor. The Friday featured various specialist clinics, including David Wolsoncroft-Dodds's workshop on "Fine Tuning" and Colin MacLeod imparting expertise during a "Mullet Masterclass" that covered where to go, various approaches, which lines, rods and flies to use, tides and more.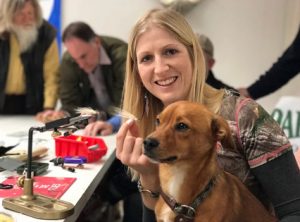 Jo Stephenson and I – co-founders of Line Girls! – took Bridget Wills and Bryony Whitaker (daughter of the event hosts) to the beach for their first ever casting lesson. Through a combination of natural skill and some expert coaching, they picked it up really quickly and before long were casting into the coastal wind with style and finesse. In the evening there was a flurry of late arrivals, who signed in just in time to register for the competition. Jo Stephenson and David Wolsoncroft-Dodds put on a Fly Tying Workshop in the St Mawes Hotel Cinema and then Stephenson and I ran a presentation on Influential Women in Fly Fishing. In all, a busy and interesting two days. But the real deal started on Saturday at first light.
The Salt was set to run from first light onSaturday to Sunday at 1pm. Sun up was 7am but most participants were on their way to their marks by 5am. Each team had one pro and two other rods. All the competitors were given a map with up to 25 numbered marks along the Cornish coast, each mark correlating to a known fishing spot. Skill, water craft and an element of luck would determine which team won and the overall individual winner. The rules were simple: you could fish from the shoreline seeking your quarry along the many beaches and rocky areas;there was access to pre-booked boats but any fish caught off a boat would not count;all fish must be returned; each fish caught should be measured on the chart provided, accompanied by a photo displaying the nose to tail measurement. By Sunday afternoon, the results were in…
The longest fish had been hooked by James Doyle, a 55cm garfish, while David Johnson's bass, at 44cm, was deemed the largest fish and won The Field trophy. The winning team consisted of Neville Broad, Simon Moorman and Pat Camber. While many were using traditional sand eel and mackerel patterns, Neville Broad had been using nymphs, some of which had been included in the goody bags for mullet fishing. Perhaps we don't know as much as we think we do about the bass's feeding patterns; there is obviously still much research, and fishing, to be done.
In 2015, when The Salt started, the Government implemented new commercial and recreational fishing restrictions on bass after many petitions led by various groups, including Save the Sea bass. These regulations included a daily three-fish limit per person for recreational anglers and monthly catch limits for commercial fishing vessels. A ban was placed on all EU commercial fishing in areas around Ireland, excluding the Bristol Channel and other areas inside the UK's 12-mile zone, and anew minimum conservation reference sizeof 42cm was implemented to allow female fish to grow to spawning age. The species is thought to be particularly vulnerable to over fishing. The most recent assessment of bass stocks showed that stocks have continued to decline year on year. In the first year of the festival there were just four bass caught over the two days but this year there were more than a hundred. These incredible statistics suggest that within the past three years there has been a significant increase in bass stocks. And there has not only been an increase in numbers but also in the size of fish being caught. The largest fish in 2015 was 29cm, caught by Martin Webster. This year, two44cm fish were caught, one by me and the other by David Johnson. We also witnessed more people catching other species on the fly, such as pollock, mackerel, mullet and garfish. Do we really have to wait until a species is in such danger for the Government to listen?
As more people start to test the shores of the UK for saltwater species on the fly, the festival will link our fishing community to a new sector of the sport and promote just how good we have it here in the UK.Having enjoyed three successful years,plans are already in place to hold the next Kilchoman UK Saltwater Fly Fishing Festival from 27 to 30 September 2018 in and around the historic fishing harbour of St Mawes, Cornwall.
The Field will be back and we hope to see you there, too. For more on the festival, or to contact Nearwater B&B, call 01326 279278 or go to: www.saltwaterflyfishinguk.com
Back to blogs