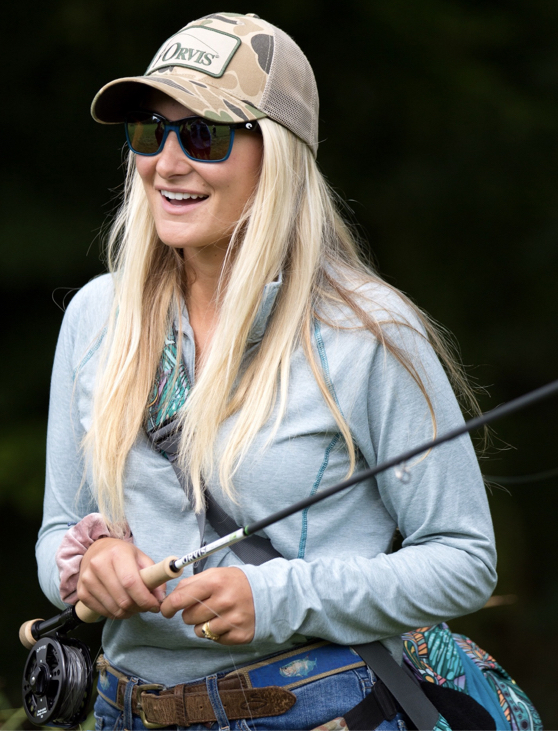 Everyone has a different way of taking their mind off things and switching off; some people prefer to lounge on the sofa and get stuck into a box set, whilst others might go for a run. My release is fishing. People always ask me why I devote so much of my time to fishing. Here's why …
At the age of five, I started trout fishing at local fisheries in Gloucestershire and by the time I was eight, my brother and I were chasing brown trout, sea trout and salmon in the Highlands. I dabbled here and there in my teenage years, but it wasn't until I was living in London, aged 21, that I was given my first salmon and trout rods by my father and the fishing bug well and truly took hold of me. I started my first job at a boutique finance company in Chelsea. My boss at the time was a sea fishing fanatic, so to spark conversation, I used to show him my latest catches.
I always wonder what would have happened if I hadn't received those rods at that point in my life… Since moving away from London, quitting the rat-race and choosing to make my hobby into a career, I've never been happier; I am free, and I wake up every day feeling grateful and satisfied.
I love everything about fishing, from planning my next day out – whether that be with friends or on on my own – to packing my car with rods, dogs, boxes of flies and the rest. Then the best part… the challenge of hooking a fish, the fight, netting it safely (or maybe not) and then the pinnacle, releasing it.
Fishing has given me something to concentrate on. It inspires me to look for new and exciting challenges. It has opened my eyes to the wildlife, the environments which surround us, and the conservation projects and initiatives – in both rural and urban areas. The rivers and streams are our country's arteries – without them it cannot survive and nor can we. Fishing gets us off the sofa, away from technology and into the fresh air. It keeps our minds busy. It provides an understanding about important issues such as littering, global warming, pollution, water quality, farming. And wherever you are in the world, there is almost always some sort of fishing a stone's throw away. It's a very accessible sport and one of the most popular in the UK.
Consider the current mindfulness and wellbeing boom in this country. Fishing offers an escape from the outside world, at home or at work. It allows us to focus solely on one thing: landing that special fish. I've guided some incredibly brave people, some of whom have lost family members or have just been diagnosed with cancer. Many have said at the end of the day that it was the first time they've been able to get away from the worries and the heartache. Indeed, charities such as 'Fishing for Forces' and 'Casting for Recovery' have proven that fishing is a valuable form of therapy.
The rise of 'catch and release' might confuse those outside of our community. One might ask why we do it if we release them, what's the point? As anglers we love fish, we appreciate them and we feel connected to them. We are the marshals of the river; if there were no anglers then who would look after these incredible habitats?
So I guess the answer is multifaceted. The escape, the opportunity to learn, the friendships, the conservation… This is why I love fly fishing.
Back to blogs