With wild Atlantic salmon numbers continuing to fall and salmon farms attracting more bad press than sea lice, Jane Pruden talks to fly fishing instructor and industry ambassador, Marina Gibson about sustainability, trout and some surprisingly positive developments within the fish farming industry.
WORDS BY JANE PRUDEN
Nutritionists keep telling us to eat more fish, particularly salmon and trout, because it will help us to live healthier lives. But the ice can melt under the fishmonger's counter while you make heads or tails of what you're buying.
For starters, is it wild? If so, was it pole or line-caught, trawler-caught or hoovered up from the bottom of the sea bed in nets big enough to swallow three jumbo-jets? Was it caught in or out of season, further depleting the ocean of its natural resources which, Netflix's documentary Seaspiracy claims, could be empty of fish altogether by 2048. It's worth checking out the Marine Conservation Society (mcsuk.org) for advice about when and where to buy which wild fish, as demand continues to outstrip traditional supply.
I met up with Marina Gibson, Ambassador for Angling Trust, Atlantic Salmon Trust, Fishing for Schools and Orvis Fly Fishing, on a recent visit to the River Test in Hampshire to talk about sustainability.
"As a passionate fly-fisher since childhood, sustainability has become a big part of my life. My parents used to fish in Scotland in the late 80s and 90s and bring back enough salmon for the freezer for the whole year, but those days are very much behind us. Yes, there's the problem of overfishing at sea, and sea lice from salmon farms, but on top of that every river in the UK is polluted beyond legal limits.
Agricultural run-off, effluent from chicken farms, sewage discharges from water companies, and plastics are just a few of the issues. I am involved with an organisation called River Action UK who are committed to addressing the problem through education and campaigning but it's a constant battle.
"And where we are, the Test – the birthplace of fly fishing and home to the most famous chalk streams in the world – is no exception to pollution. We're really noticing a reduction of mayfly. Toxic chemicals in the environment from agricultural spraying is having an adverse effect on all insects, which is affecting fly life on rivers. It's just another hard knock to the delicate balance in our eco-system.
"Salmon and sea trout numbers continue to decline nationwide, including here, although we have plenty of brown and rainbow trout. Stocks are supplemented, in places, with farmed sterilised fish which are just as much fun to catch and arguably tastier with firmer flesh as they don't waste fat stores producing eggs."
Aquaculture was developed in the 1960s and was seen as the sustainable answer to protect wild fish. Its economic success has soared in recent years. In 2019, global farmed fish production overtook wild fish catch and is set to continue. But news from fish farms make notoriously difficult headlines.
"Scottish salmon farms are often heavily criticised," continues Marina, "with overstocking issues similar to those found in broiler and battery chicken units, and routine use of antibiotics, medicines and food dyes. I know a lot of people who won't eat farmed salmon for all of the above, and then there is marine pollution, disease and the massive problems caused by sea lice both to farmed and migratory fish. The list goes on.
---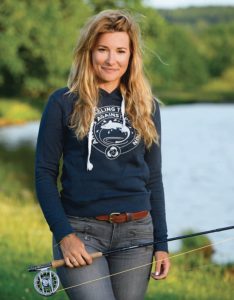 "Land-based fish farms, similar to successful organic models in Norway, may be the solution and Nicola Sturgeon's Scottish Nationalist Party have been talking about support for closed-containment in the future. The biggest concern, though, is the sustainability paradox; that fish farming protects wild fish when each farmed salmon has been fed up to three times their own weight from wild-caught fish in fishmeal and fish oils."
The market is open for alternatives, and researchers in the Netherlands have developed a hugely successful product, designed to reduce pressure on marine ecosystems, from insects. Protix, the largest insect ingredient company, processes larvae from the black soldier fly, which are fed on local food waste sources from supermarkets and restaurants to produce a cleverly sustainable high-quality protein fish feed. It's suitable for all fish and an obvious feed for freshwater fish and trout who thrive on a basic diet of flies and insects anyway, rather than seafood. And it's going to be big business. Other manufacturers include AgriProtein, a South-African-based fly-farming company which is building 200 fly farms around the world by 2027. Soy, algae and grains are other substitutes in development.
But perhaps the ultimate in sustainable fish farming for the future is a recirculating aquaculture system (RAS) called aquaponics. You can use almost any type of fish but trout work particularly well. Based on an ancient land-locked containerised farming system used by the Aztecs, vegetables are grown in soil-less nutrients fed from recycled, nutrient-rich waste water from fish tanks which circulates through the plant roots, cleansing the water before it goes back to the fish.
Antonio Palladino, former London chef, gave up the kitchen for the good life in Somerset and set up Bioaqua Farm in pursuit of organic, sustainable produce. "We feed our naturally-reared trout, which haven't been sterilised like trout for stocking rivers, on organic feed which is a third fishmeal, third vegetable-based and the rest is a blend of vitamins and minerals. But we're looking at converting to the fly-based alternatives which will substitute 20% of the fishmeal."
The organic farming principle is applied to stocking ratios of 20 kilos per cubic metre; giving the fish plenty of room makes antibiotics and routine vaccines unnecessary as the water is clean and disease-free. Nor are dyes used to colour the flesh.
The aquaponic system operates in a polytunnel with natural sunlight and water temperatures, and it takes 12-16 weeks to reach maturity. "With all the clean water, nutrients from the vegetables and the organic, natural rearing process," says Antonio, "they are the best tasting trout you will ever eat, and they haven't cost the planet."
But water costs are high, and as yet this method of farming – which has grown trout, salmon, tilapia, sea bass, mullet, prawns, crayfish and fresh water langoustine – remains relatively uncommercial on a large scale in this country.
Antonio sells his trout at the farm gate and is working hard at education, running regular courses from his farm and collaborating with university research projects. In the meantime, farms in the US and Finland are in production and supplying aquaponic-farmed vegetables and fish in supermarkets. Lidl in England are even stocking aquaponic grown tomatoes in some stores.
"It's very exciting to see aquaculture moving away from fishmeal, and new innovative methods of farming; it's encouraging for consumers and the environment," says Marina. "Sustainability is something I never used to think about until a few years ago. I started posting pictures on social media that highlighted pollution in the sea and rivers, and then, as the problems grew and I was witnessing them first-hand in rivers all over the world, it became addictive. We, in the industry, have a duty to focus on protecting our seas, rivers and, of course, our planet. Sustainability is a passion which touches on all our lives. Social media has to mean something!"
Marina's Fishing Tips
Trout
Most of us have a trout fishery within easy reach, which is usually comprised of a lake or two that are regularly stocked with rainbow and brown trout, and occasionally blues, tigers and other exotic species of trout. These fish are reared specifically for the table, but you have to catch them first.
Tackle required would be a fly rod of around nine feet, suitable for lines of 5 to 7 weight with a nine foot 1X leader and a couple of feet of 3X (7lb) fluorocarbon (nymphs or streamers) or monofilament (dry fly) tippet. Your choice of fly will depend on the time of year, but patterns such as a buzzer, diawl bach, montana, cat's whisker or hare's ear nymph are generally effective, however a weighted damsel in green or black will usually suffice. You will also need an array of dry flies in your armoury to match the hatch during your fishing session; klinkhammers, sedges, daddy long legs, midges, upwings, shuttlecocks and CDCs to name but a few.
The technique couldn't be more straightforward. Having made as long a cast as you can, simply retrieve the fly in such a way as to impart some movement to make it look alive. Sometimes this will be a slow figure-of-eight motion in your line hand and other times you'll use short or long strips to impart more of an erratic movement into your fly. Once you find the right fly and retrieve method the fish will respond and – after a bit of a tussle – you'll have a fish on the bank. Before taking your catch home you'll be able to gut and clean it at the fishery, but it's worth taking some large biodegradable bags with you and, perhaps, a cool bag to keep your trout fresh.
Mackerel
Mackerel are common throughout the British Isles during the summer months and can often be found in large numbers close to the shoreline where they corral vast shoals of baitfish. This brings them within easy reach of us anglers and, more often than not, are a doddle to catch. Whilst mackerel fishing is traditionally done with a string of feathered hooks a far simpler and more enjoyable way to catch them is with a small metal jig-style lure, fished on a spinning rod. You can use similar spinning gear as you would for perch or smaller pike. A rod of 8 to 9 feet, capable of casting up to 20 grammes is ideal, matched with a fix spool reel loaded with 20lb braid or 10lb mono. If you're fishing with braid then it's best to attach a 10lb fluorocarbon leader of around three feet, particularly when fishing over shingle.
Once you've located a shoal of mackerel you simply cast into it and allow your metal lure to sink for around ten seconds. You'll know when you've reached the required depth as the fish will attack it even as it drops through the water column, so it's not at all unusual to be hooked up before you've even turned the reel handle. On such light tackle your average mackerel can give a spirited account of itself and you'll have a lot of fun catching fish after fish once you've located a good shoal. Simply take what you need, return the rest and enjoy the spot. As with the trout, store your catch in biodegradable bags and, if possible, transport them in a cool bag or fridge to keep them fresh.
Back to blogs