Marina Gibson makes a once-in-a-lifetime trip to the Seychelles to experience its diverse range of wildlife & try to land giant trevally and parrotfish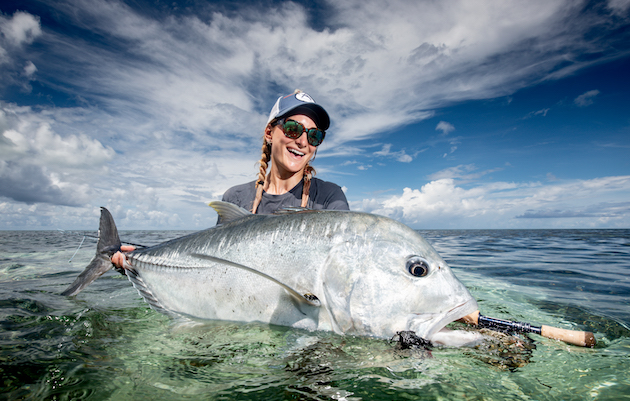 Farquhar Atoll is the most southerly atoll in the Seychelles chain of islands, lying just over 700km to the south-west of the main island, Mahe. Even in normal circumstances, trips to these remote places are carefully planned out, with little or no room to alter logistics, so we were fortunate that Covid restrictions allowed us to travel to the Seychelles, providing we abided by all regulations and guidelines.
At short notice, we packed bags and set off from Germany, flying via Dubai to the capital of the Seychelles, Mahe, and then to Alphonse Island in a small plane, before the last leg to Farquhar Island. The island has around 22 inhabitants from Islands Development Company (IDC), a small number of houses, next to no pollution and minimal fishing pressure. After 12 months of downtime, I was lucky to be one of the first fly-fishers to set foot on this pristine place, a once-in-a-lifetime opportunity.
It is a dream location, where casting for giant trevally (Caranx ignobilis), green humphead parrotfish (Bolbometopon muricatum) – aka bumpheads, bumpys or buffalos of the flats – Indo-Pacific permit (Trachinotus blochii), bonefish (Albula vulpes), several species of triggerfish (of the family Balistidae) and an array of reef fish, including Napoleon wrasse (Cheilinus undulatus), saddleback grouper (Plectropomus laevis) and bohar snappers (Lutjanus bohar) makes it the apogee of destination fly-fishing.
Read the full article at https://www.thefield.co.uk/fishing/fly-fishing-in-the-seychelles-46847
Back to blogs