The UK angler is truly spoilt for choice. For within our shores is a vast array of water systems where you can put your skills to the test, whether you are a one-track-minded salmon fisherman, a dedicated all-rounder searching for predators, bottom feeders and lake trout, or the classic dry fly enthusiast pursuing speckled brownies in wild rivers. Personally, I'm rather obsessed with the combination of all three.
Three years ago I decided that there was more to life than staying in London every weekend nursing a hangover – I wanted to explore the countryside and see what I could find. I started my search close to home, the aim being to find a decent base to practice my casting and, if Lady Luck were on my side, bagging a fish or two for supper.
Some fishing friends recommended Syon Park fishery; 20 minutes from home, it offered a quick and easy escape from the city. If you're new to the sport, I advise finding your feet at a local fishery. It won't be too testing and you can seek professional guidance – it's far better to iron out your technique this way than on a boat in the middle of a rough lake without another soul in sight.
Before you settle on where to go you need to ask yourself a few questions: What species are you hoping to catch (trout, salmon, sea trout, pike, grayling or carp)? How far are you willing to drive? What kind of fishery are you looking for (stillwater, freshwater, a wide river or a narrow stream)? This will largely depend on the fishing kit you have. There is no point in organising a day on Rutland Water in mid-winter with a 2wt rod. You would never return! If you are unsure of what kit to take, call the fishery beforehand or ask someone who has been there before – the better organised you are the more time you can spend on the water catching those fish. (Do also remember that you will need to buy a rod licence – you can purchase this online or visit your local post office.)
Syon Park Fishery is situated in the 200-acre parkland grounds of Syon House in West London. The park comprises a six-acre elongated lake and is regularly stocked with rainbow and brown trout. The average weight is 2lbs, while the largest tip the scales at a whopping 10lbs. As you wander down the lake and peer into the water, you can see fish sitting in their lies or swimming nonchalantly passed you.
I've fished Syon extensively over the past two years and have caught many premium trout on damsels, montanas and buzzers. As it doesn't close until dusk, there is the option for a quick flick after work in the summer – the best way to rid yourself of the stresses that accompany a city job. It has become a reliable go-to, always a pleasure and, more often than not, fruitful. But I had an itch to experience something bigger. Grafham Water, the sister lake to Rutland Water, was next on my list…
Despite being constantly on the search for new places to wet my fly, I have only scratched the surface of what the UK has to offer. Nevertheless, to follow are my 10 favourite UK spots – I hope they will encourage you to broaden your piscatorial pursuits.
Wye & Usk (Mid and South Wales)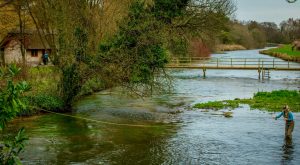 The Wye (and its tributaries) are known by many to be pots of gold. These destinations ooze with life and are ready to be explored by any avid fly fisherman. Whether it be fishing for salmon, sea-trout, trout or grayling or coarse, they have it all. There won't be a glimpse of boredom on these spectacular waters, which differ from six-feet-wide mountain streams to medium sized rivers. As you can fish some beats all year round, it might be worth joining the Wye and Usk Foundation. A rod wild stream season permit costs £80, or £120 for two rods. Call 01874 712074 or go to www.wyeuskfoundation.org.
Tyne, Tyne and Wear
A place I have only found last season, this river – once known only by the locals – has become extremely popular over the last few years. If you are searching high and low for salmon and sea trout and don't mind bumbling up north for a long weekend, this is the place to go. You can also fish on Sundays, which makes your journey more worthwhile. The price of fishing on association water varies throughout the season, averaging from £30 to £100-plus. Call 01573 470612 or go to www.fishpal.com.
Tamar, Devon
If you have a spare weekend in your diary, I highly recommend the Tamar. Unfortunately when I went last year the river was too high. Luckily, we were staying at the Arundell Arms Hotel in Lifton and they pointed us in the direction of the River Lyd and Lew a few miles down the road. Swapping our double-handed salmon rods for 3wt trout rods, off we went. We waded through the rugged landscape and we were rewarded with beautiful, surfacing brownies in gin clear water. Price ranges from £35 to £50, depending on time of year and species. Call 01566 784666 or go to www.arundellarms.com.
Vale Farm Fishery, Andover, Hampshire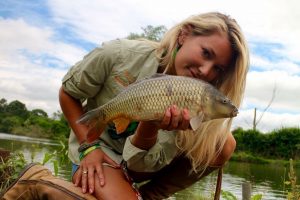 If you've ever had an urge to catch a carp on the fly, make your way down to Vale Farm Fishery, near Andover. There's a choice of three stocked lakes containing common and mirror carp up to 30lbs, along with your smaller species of coarse fish such as tench, perch, roach, rudd and bream. Day ticket £8 for one rod and £10 for two. Call 01264 720227 or go to www.valefarmfishery.com
Rutland Water, Leicestershire and Grafham Water, Cambridgeshire)
Anglian Water offers trout and coarse fishing at it's water parks, including these two, which are of similar size. I have been to both reservoirs, hired a boat for the day with friends and taken a picnic. You can buy your tickets over the phone, in the tackle shop upon arrival or directly from the wardens who are often around the pier where the boats are kept. If you are a beginner or seek extra supervision you can book a fishing guide for the day. Tickets start at £10. Call 01780 686441 (Rutland) or 01480 810531 (Grafham), or visit www.anglianwater.co.uk
Topwater Kayak Fishing, Dennington, Suffolk
Slightly unusual and off the beaten track, this category of fishing will keep you alert. I have now been twice and on both occasions I have experienced some of the most exhilarating moments. Jonny and Jo Stephenson set up Topwater Kayak Fishing in Dennington, near Woodbridge, a few years ago; mostly they use Jo's hand-tied flies but they also fish with lure and bait. My favourite thing about fishing off a kayak is that you cover an extraordinary amount of ground; it's intense and extremely rewarding. They offer bass, pike, chub and perch fishing. Prices start from £125. Call 07966 065262 or go to www.topwaterkayakfishing.co.uk.
Itchen and River Test, Hampshire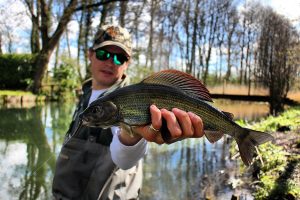 Separate rivers but as they are so close in proximately I will kill two birds with one stone and place them together. There is no better place on earth to be if you find yourself on one of these two rivers in the middle of the mayfly season. Generally speaking, these chalk stream rivers are regarded as the mecca of dry-fly fishing and are famous for their trout and grayling fishing. My choice of kit would be anything under a 6wt rod and you can't go wrong using sedges, klinkhammers, daddy long legs, grey and olive wulffs. Prices start from £205 for two rods on the Itchen and from £305 for two rods on the Test. Call 01264 349515 or go to www.orvis.co.uk.
Ure, North Yorkshire
One of the UK's hidden gems, the Ure runs through some of North Yorkshire's most picturesque countryside and is fast gaining a name for the monster salmon it produces on a yearly basis. In the summer months it also produces sensational trout fishing with the hidden opportunity of a decent sea-trout. Fishing is available on three beats (Thoresby, Bolton Hall and Wensley) at Bolton Estate in Wensleydale, one of Yorkshires finest sporting estates. Autumn is the most productive time for salmon but is great value from April all the way through the season. Prices range from £25 to £95 per rod per day depending on the beat and time of year. To book and find out more about the fishery, call 01969 621182 or visit www.boltonestate.co.uk/fishing.
Avon, Hampshire and Wiltshire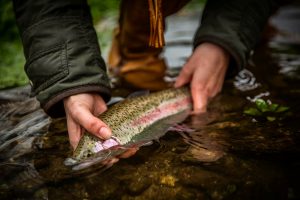 One of the region's best-known chalk streams, wading is the form on most of the Avon and hunting wild brownies weighing up to 4lbs on a dry-fly is easily achievable. Matching hatches of flies is essential as these fish can be picky, especially in the summer months. But if you fish any stretch of the river you are in for some serious sport in stunning and tranquil surroundings. Manningford Trout Fishery in Manningford Bohune, near Pewsey, offers extensive access to wild upstream dry-fly fishing for trout and grayling, as well as some lovely stocked lakes if you have no luck on the river. A day on the Avon can cost as little as £50 per rod, going up to £100 for the most prolific beats. For more information, call 07544 801844 or visit www.manningfordtroutfishery.net
Scottish Association Waters
As you may well know, some of the finest salmon rivers in the UK can be found in Scotland. Although many of the beats are set at a daunting price, there are hundreds of angling association waters that offer low priced day tickets, including rivers that you would think you would never be able to set foot on including the Spey, Tay, Beauly, Tweed, Naver, and Findhorn. In fact, you will be spoilt for choice. Prices will vary throughout the season but start from just under £10 per rod per day from February onwards. You can also buy Helmsdale Association day tickets from Bannockburn Inn in Helmsdale (tel 01431 821461). A day ticket costs £25, a week is £100, under 16s go free and a senior citizen goes half price.For further details, call FishScotland on 01573 470612 or go to www.fishpal.com.
There is no need to travel to the likes of Norway and Russia for amazing sport – we have plenty on our doorstep. Wherever you are based in the UK, you are never far from decent sport, and despite the fact that people whinge about the bad weather, this actually plays into the angler's favour… every cloud has a silver lining!