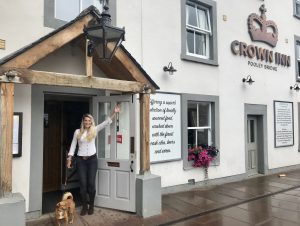 When Sedge and I embarked on our Tenderstem® 'Adventures on your Doorstep' day out in Cumbria we were in for a treat. Normally our outdoor escapades lie by the side of a river or lake tempting fish from dusk till dawn.
For us, any adventure which involves being submersed in nature, is a good enough reason to leave the house and when you are lucky enough to live in such a beautiful country where nature thrives not just in rural areas but urban too there's really no excuse not to get outdoors and explore.
A little bit about Tenderstem® …
It all began in Japan, where someone had a bright idea to bring together two of their favourite vegetables to make a new one that was full of goodness and deliciousness! They crossed broccoli with Chinese kale and voila! Tenderstem® was born. You learn something new every day!
When Sedge and I had the opportunity to take part in 'Adventures on your Doorstep', we had endless options. I searched the various walks on Tenderstem®'s website and came across 'The Crown Inn' in Pooley Bridge in Cumbria amongst other incredible spots in the Lake District and West Midlands. 'The Crown Inn' is one of the Thwaites pubs that Tenderstem® has linked up with for the 'Adventures on your Doorstep' initiative.
Sedge and I hit the road and headed north to Pooley Bridge. When we arrived I couldn't help but notice Ullswater Water, albeit an overcast day when the sun managed to break through the clouds it lit up parts of the lake like a stage play. People travel far and wide to experience the diverse walks that surround Pooley Bridge and after doing some piscatorial research I learnt that you can catch pike, perch and brown trout in Ullswater!
We started our walk opposite the 'The Crown Inn' across the River Eamont, we opened the wooden gate and wandered into the densely wooded slopes of Dunmallet.
The walk was 1.5 miles and took just over an hour, it should have been quicker but we got distracted on numerous occasions looking at wild mushrooms, the Ullswater 'Steamers' which takes people to different locations around the lake and other dog walkers where Sedge couldn't resist making friends.
After walking up an appetite I was eager to go and try the Tenderstem® dish at "The Crown Inn'. As I walked through the large archway entrance and entered the warm country pub the friendly staff welcomed me. As they escorted me to my table I noticed the ceilings covered in maps of the surrounding areas showing the potential topography you have to explore. There was an immediate sense of country lifestyle and adventure as soon as I walked in.
Sedge laydown next to me and before long I was given a beautifully presented plate with pan-seared lamb, Tenderstem®, asparagus, baby potatoes, Tenderstem® puree and a rosemary-infused red wine jus. It was simply delicious. I particularly liked the quality of produce and how green and crunchy the Tenderstem® was. I was privileged to meet both chefs cooking that day and passed on my compliments.
Before I left I managed to sneak up to the terrace, sadly it had been raining so no one braved their lunch outside. This would be a spectacular spot when the sun is shining.
We as a nation should take full advantage of the fact we can surround ourselves with such picturesque places. Not forgetting that everyone needs to take a breather once in a while if not all the time from the hustle-and-bustle lives that we all lead.
Tenderstem®'s aim is to not only introduce people to their flavoursome super food but to also promote healthy living through adventure. By linking growers, walks, pubs and recipes they hope that their initiative will pay off and they will see more folk getting outdoors and trying something off the beaten track.
Get involved with 'Adventures on Your Doorstep': www.tenderstem.co.uk